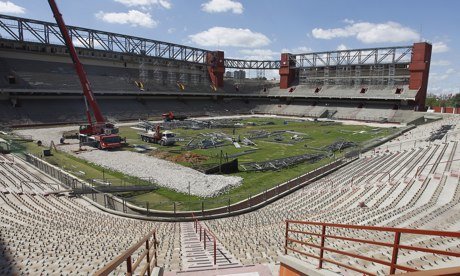 The Fifa secretary general, Jérôme Valcke, has given a four-week ultimatum to one of Brazil's World Cup host cities to accelerate stadium construction or risk being excluded from the tournament.
With less than five months until kick-off, the Arena da Baixada in Curitiba is so far behind schedule that organisers admit it will not be ready for its first match on 16 June at the current speed of work.
It is one of six stadiums that missed Fifa's deadline for completion, and the delay is likely to figure prominently in talks that the Brazilian president, Dilma Rousseff, will hold on Thursday in Zurich with Sepp Blatter.
After a site visit to Curitiba on Tuesday, Valcke said work at the Arena da Baixada stadium was "delicate" and far behind schedule. He added: "To be very honest, the situation as it stands is not ideal. The stadium is very delayed and well outside the delivery schedule to ensure best use by Fifa and the Fifa World Cup."
In a new effort to push the work forward, he announced the creation of a steering and technical committee, comprising representatives from world football's governing body, local officials and Clube Atlético Paranaense that will issue daily progress reports. More workers will be brought on site and a third shift will be introduced to speed up construction. The Parana government has promised to put up an extra 39m reals (£10m) to pay for the increased workforce.
By 18 February, Valcke said all parties have to decide "whether the stadium is in a position on that date to give us the confidence to hold World Cup matches there, without risking the organisation of the event".
Brazilian officials acknowledge completion is still some way off. Luís Fernandes, the executive secretary of Brazil's Ministry of Sport, said: "What all sides have found is that, if the pace of work at the stadium in Curitiba were to be kept as it is, then it would not be ready with the quality and requirements necessary to host the Fifa World Cup."
Though it must still be considered a remote possibility, a change of stadium and schedule so close to the opening match of the tournament on 12 June would be a nightmare for organisers.
Arena da Baixada is due to stage four matches: Spain v Australia, Honduras v Ecuador, Iran v Nigeria and Algeria v Russia. Tens of thousands of fans have already bought tickets and millions of dollars are likely to have been spent on flight and hotel reservations. National teams will need time to organise training camps. It is also far from certain that an alternative stadium could be prepared to meet Fifa standards at such short notice.
Curitiba is not the only problem. Valcke has also visited São Paulo's Itaquerão stadium, which fell further behind schedule after a fatal accident in November. Local organisers said the stadium would be inaugurated on 15 April, less than two months before it is due to stage the opening match of the World Cup.
Labour unions warned safety standards are being compromised as a result of a last-minute rush after two other workers were killed in December at a stadium in Manaus that is also still incomplete. All World Cup stadiums were supposed to be finished by the end of December.
Earlier this month, Blatter said no host nation has been so far behind in his tenure. He and Rousseff will be looking to put on a more united front after their meeting on Thursday.
Rousseff, who is in Switzerland for the Davos World Economic Forum, and the Minister of Sports, Aldo Rebelo, have been invited to the FIFA headquarters for a "courtesy meeting". They are expected to discuss preparations, including how they plan to address the delays and concerns about a repeat of the protests that marred last year's Confederations Cup. In better news for the organisers, the Arena das Dunas stadium in Natal will be declared officially open next week and ticket sales for the tournament as a whole are on course for a record.